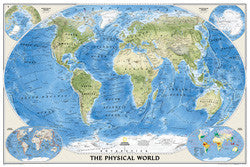 World Physical Wall Map Laminated 43" X 30"
Description:
Title: World Classic
Size: 43" X 30"
Publisher: National Geographic
National Geographic's The Physical World map highlights the Earth's land and undersea forms with exquisite hand-painted relief. Drawn in the Winkel Tripel projection, distortions are minimized and unlike many other World maps, Greenland is show the same size as Argentina and not as the size of all of South America. Two corner inset maps show the Earth's crust and world climatic zones.